When Friedrich and Charlotte Meyer left their home
in the village of Quernheim, in northwestern Germany, in the fall of 1860, they already knew that they were bound for Frelsburg, Texas. They had read the letters of previous emigrants to Texas, extolling the many attractions for industrious workers, including abundant land, high wages, and low taxes. Most important, their good friends and neighbors, Heinrich and Sophie Priesmeyer, showed them the letters they had received from Sophie's younger sisters, Charlotte and Louise, who had emigrated to Frelsburg in the 1850s and had married and established prosperous households there.
We can be sure that it was not easy for the Meyers to leave their community in Germany, but circumstances had driven them to it. Charlotte had come from a destitute and dysfunctional family and may have welcomed the opportunity to start afresh. But Friedrich had grown up in a somewhat more favorable environment. Although his parents were not wealthy, they were small landholders in the neighboring village of Brockum and had the resources to raise a family of five children. But the customs of northern Germany required that they confer their estate on just one of their children,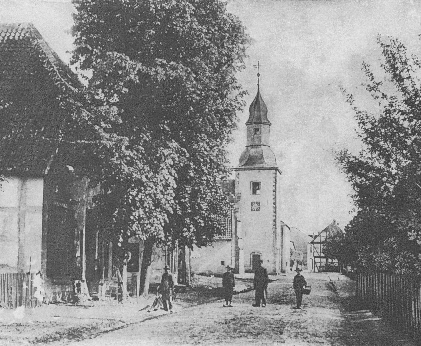 and they chose their oldest son, Dietrich. Friedrich, the youngest son, received only a nominal payment from them and was required to make his own way in the world after he left school, at the age of fourteen. Like most of his non-inheriting peers, Friedrich found work as a day-laborer in the surrounding villages.
Until the 1850s it had been possible for a landless laboring family to survive by working hard in the fields of the landholding families and by hand spinning and weaving linen, which was then in great demand in both Europe and America. But the steady growth of population -- due both to the introduction of smallpox vaccination and to the acceptance of the potato as a worthy substitute for bread -- increased competition for available work and made it harder to earn enough to survive. Then a series of bad harvests in the late 1840s and the introduction of mechanized linen manufacturing, which thoroughly underpriced handmade fabric, drove laboring families to the wall. Increasingly they sought opportunities in the factories of the growing German cities or they chose emigration, especially to the United States.
In fact, the Meyers' decision to emigrate may have been fairly spontaneous, since their marriage contract, written eighteen months earlier, contained no hint of such an intention:
Between Friedrich Heinrich Meyer, 29 years old from Brockum as bridegroom, and Charlotte Christine Buck, 25 years old from Quernheim as bride, and the father, renter Johann Heinrich Buck, the following marriage contract is agreed upon and concluded:
1. The wedding couple have become engaged with the consent of the bride's father and will soon marry.
2. The bridegroom will marry the bride and will make his residence in Quernheim. As marriage endowment, he commits to his bride the items that were promised to him in the marriage contract, dated 26 June 1847, of his brother, new farmer Johann Dietrich Meyer of Brockum, who is present here, and that will be given to him on his wedding day:
a. Seventy-five talers in cash.
b. Items for the bridal carriage: a half-bed, a spinning wheel, a bobbin, six chairs, and a cow. Apart from this he already has fifty talers that he earned himself.
3. The bride in return commits to her bridegroom all her possessions, consisting of her household goods and furniture, which she owns with her father.
4. The father of the bride will take the young couple into his household, and he designates them sole heirs of his entire estate; this commitment is undertaken without reservation.
5. The prospective couple place themselves under the custom of communal property to be mutual heirs in the event of a childless marriage, and the father of the bride relinquishes his legal rights as his daughter's next of kin.
Signed on 13 April 1859 by Heinrich Buck, Friedrich Heinrich Meyer, Charlotte Buck, and Johann Dietrich Meyer.
We note a number of characteristic details in this fairly typical contract. The goods and money that Friedrich brings to the marriage are from his brother Dietrich, who, as mentioned above, was the heir to the Meyer family farm. The terms of Dietrich's own marriage contract, in 1847, assured Friedrich of these items as his compensation as a non-inheriting sibling. Charlotte's father, Heinrich, is a party to the marriage contract, but in place of a dowry, which he was too poor to provide, he simply invites Friedrich to move into their house and take possession of the furniture (as well as assume, undoubtedly, responsibility for paying the monthly rent and feeding his father-in-law). Missing, however, is any mention of plans to emigrate. Either they were keeping their intentions secret, or the realities of life with father over the succeeding eighteen months made departure an attractive alternative. If Charlotte had not been pregnant with their first child, perhaps they might have left earlier.
In any case, Friedrich and Charlotte Meyer departed Quernheim with their infant son Henry in the fall of 1860. They were accompanied by Heinrich and Sophie Priesmeyer and their two teenage sons, who had also decided to settle in Frelsburg. (The Priesmeyers' first grandchild, Sophie, would eventually marry Henry Meyer.) On September 20, they all boarded the brig "Weser" in Bremerhaven. After a nine week voyage they landed in Galveston, on November 23, and embarked on the arduous trek to Frelsburg, 130 miles to the west. They were probably there by Christmas.
In 1860 Frelsburg was a prosperous German community that had been founded over twenty years earlier. It already had several hundred inhabitants, a post office, two churches, two general stores, two blacksmiths, a cobbler, and a cotton gin. The photograph reproduced here shows the main street in the 1800s, dominated by Trinity Lutheran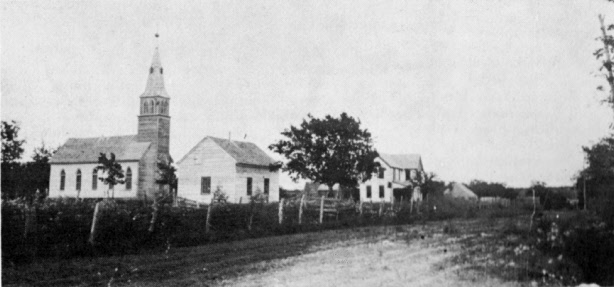 Church, where the Meyer children and grandchildren would eventually be married and in whose graveyard Friedrich and Charlotte would be buried.
Like most German immigrants who settled in rural areas rather than in American cities, the Meyers' dream was to recreate the world that they believed their ancestors had enjoyed -- of small subsistence farms owned and operated by self-sufficient, independent families. Wage labor, if unavoidable, was considered a temporary step on the way to saving, investment, and independence. And like most German immigrants they were devoted to family and community, calmly religious, frugal, industrious, and reasonably well educated.
Judging from available documents, the early years were challenging for the Meyers. They had the ill fortune to arrive just as the American Civil War was beginning, with its substantial economic and social dislocations. Friedrich, then just thirty years old, might even have been conscripted into the Confederate army, but he emulated a few of his peers and in June 1862 declared formally that he was still a subject of Hannover, had never applied for citizenship in either the United States or the Confederate States, and was not a permanent resident of the country. He seems to have suffered no consequences from this act, especially in his own sympathetic community. (The Priesmeyers' older son, Friedrich, who would later be the Meyers' brother-in-law, was also not a citizen, but he was eventually conscripted by both the Confederate and the United States armies.)
By 1870, according to the census of that year, the Meyers were still tenant farmers and had managed to accumulate just one hundred dollars in personal property. But it may be suggested that they understated their wealth to the census-taker, since in December of 1871 they purchased their first land -- 139 acres in two equal parcels from Anton Geistmann and Frank Cabron, for a total price of $2,900, with a substantial downpayment (at a time when an unskilled laborer might earn no more than $300 in a year). In any case, by 1880 they had built their home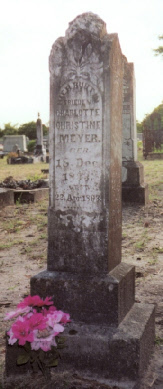 and employed two laborers on
their farm.
In addition to their son Henry, who had been born in Germany just before their departure for America, the Meyers had two more children: John, born in 1863, and Sophia, born in 1870. Adhering to the customs of their ancestors, they chose John as their primary heir and probably gave just a small amount of money and goods to their other two children, who then had to make their own ways in the world. The following sections discuss each of the three children.
Charlotte Meyer died in 1893 at the age of 59 and was buried in the graveyard of Trinity Lutheran church in Frelsburg. In 1900 Friedrich (at last an American citizen) was living with his heir, John, and the latter's wife and children. Friedrich Meyer died in 1903 at the age of 73 and was buried near Charlotte.
THE THREE CHILDREN
OF FRIEDRICH AND CHARLOTTE MEYER
John (Johann Gerhard August) Meyer,
born 18 January 1863 in Frelsburg
John was the Meyers' designated heir, and he prospered accordingly. On 17 November 1891 he married Friederike Erdmann, twenty-one years old and a native of Frelsburg. Between 1893 and 1914 they had nine children, seven of whom survived to adulthood and stayed close to home after their marriages. Friederike died in 1942 at the age of 71, and John followed her three years later at the age of 82. Their seven surviving children:
Adolf Georg Friedrich Meyer, born December 26, 1893
Married in 1919 Antonie M. Gross
Louis Carl Gerhard Meyer, born December 10, 1895
Married in 1920 Anita Fricke
Lora Henriette Emma Meyer, born April 15, 1902
Married in 1927 Walter Venghaus
Walter Heinrich Meyer, born September 9, 1904
Married in 1932 Ruby Anna Wunderlich
Ferdinand Leo Meyer, born September 14, 1906
Married in 1930 Lillie Emma Wunderlich
Fredericke Ida Gerhardine (Frieda) Meyer, born November 2, 1910
Unmarried
Arnold Emil George Meyer, born November 9, 1914
Married in about 1945 Lila Schwarz
Sophia Louise Johanna Friedrike Meyer,
born 14 December 1870 in Frelsburg
Sophia, like her brother Henry, was non-inheriting. On 10 January 1893 she married Theodore E. Erdmann of Fedderwarden, Oldenburg, and they had one child: Edward Georg Friedrich Erdmann, born 22 October 1893 in Fayette County. Theodore died the following year, and Sophia married on 5 February 1895 Gerhard Friedrich Fehrenkamp, a native of Frelsburg. They had three children, all born in Fayette County: Leo Johann Friedrich Fehrenkamp, born 13 May 1896; Adolph Fehrenkamp, born 5 October 1897; and Lillie Fehrenkamp, born in November 1899. Gerhard Friedrich Fehrenkamp died in 1923. Sophia died in 1943, at the age of 72.
Henry (Johann Wilhelm Heinrich) Meyer,
born 20 November 1859 at Quernheim by 1, Hannover
As a non-inheriting son, Henry was basically left to his own devices as a young man, and he knew that he would probably have to leave Frelsburg to find his opportunities. On 30 October 1884 he married Henrietta Sophia Dorothea (Sophie) Priesmeyer in Frelsburg, but after the birth of their first child they moved westward, to Lavaca County, where they had eight more children, all of whom survived to adulthood. Henry was a tenant farmer all of his life, although he also tried his hand at cattle trading and other jobs. In March 1905 he hanged himself from a tree in a field near Witting in Lavaca County, leaving behind his impoverished family. His widow believed, to the end of her life, that he had been lynched by men who accused him of cattle theft, a crime for which he had once been jailed, but the evidence suggests that he had killed himself out of simple despair over his poverty. Sophie lived another twenty-five years and died in San Antonio on 7 November 1930. Their nine children:
Charlotta Henrietta Louisa (Louisa) Meyer, born June 26, 1885, in Frelsburg
Married in 1905 Carl Wilhelm Anton Pundt
Elo Heinrich Friedrich Meyer, born April 3, 1888, near Witting, Lavaca County
Married in 1906 Ida Helena Wilhelmina Pundt
Lee Johann Friedrich Meyer, born December 21, 1889, in Moulton
Married in 1909 Emma Bossler
Dorothea Johanna Henrietta (Dora) Meyer, born September 12, 1891, in Moulton
Married in 1909 Edward Frederick Pundt
Viola Bertha Meyer, born August 19, 1895, in Moulton
Married in 1919 Joseph Henry Ruppell
Wilhelmina Henrietta (Willis) Meyer, born August 19, 1895, in Moulton
Married in 1916 Louis Martin Schumann
Ottilia Augusta (Tillie) Meyer, born September 5, 1898, in Moulton
Married in 1918 Robert D. Jackson
Married in 1920 Wilton Herbert Flowers
Johann (Johnny) Meyer, born July 24, 1901, in Moulton
Married in about 1918 Siddie Mernem
Married in about 1927 Elizabeth Pearl Sedgwick
Married in 1936 Kathryn Virginia Tacquard
Henrietta Ida Meyer, born December 19, 1903, in Moulton
Married in 1925 Hadley Quaintance
THE MEYER FAMILY TREE
Despite the unfortunate accidental destruction of one important German churchbook, it has been possible to reconstruct a substantial family tree for Friedrich and Charlotte (Buck) Meyer. The tree currently contains over 150 individuals, including up to eleven generations, with the earliest birthdate in the mid-1500s -- and research continues. The tree has been posted on Ancestry.com and will be frequently updated.
Following is a discussion of notable features of the family tree, divided into two sections, one for Friedrich Meyer and one for Charlotte (Buck) Meyer.
Friedrich Heinrich Meyer,
born 28 February 1830 at Brockum 99, Hannover
The most unusual aspect of the Meyer ancestry, at least to modern Americans, is the fact that Friedrich's father, Johann Friedrich, born in 1793 in Brockum, was not baptized Meyer. He was named Becker, the son of a laborer named Christoph Gottlieb Becker, who had moved from Niedermehnen, in Westphalia, to Brockum during the 1780s. Christoph Gottlieb Becker married there in 1791 but died soon after the birth of his only child, Johann Friedrich. His widow then married Franz Wilhelm Meyer of Dielingen, who established a small farm in Brockum, which was given the number 99. Although Franz Wilhelm Meyer never adopted Johann Friedrich Becker, he made him his heir, and when Johann Friedrich took possession of the farm in 1812 he changed his name to Meyer, as was the custom in this part of Germany. (In general, whenever a farm changed hands, for whatever reason, the new holder assumed the surname traditionally associated with the farm, a custom that persisted into the 19th century. Several other instances of the custom can be found in the Meyer family tree.) If this had not been the custom, and the family had instead followed modern naming practices, the Meyers of Frelsburg and Moulton would today be named Becker.
While most German immigrants to America came from thoroughly peasant backgrounds, there is a touch of something more distinguished in the Meyer family tree. Friedrich Meyer's 3rd great-grandfather, Johann Berend Buns, born in about 1650, was cantor of the Lutheran parish in Jacobidrebber, Hannover, and by 1691 was schoolmaster in the nearby village of Dickel. It is likely that one of his sons continued in these exalted positions, but Friedrich descended from one of his daughters.
The earliest documented ancestor in the entire Meyer family tree was Dietrich Lange, born in about 1540 at farm number 41 in the village of Drohne, in Westphalia. He was Friedrich Meyer's 7th great-grandfather.
Charlotte Christine Buck,
born 18 December 1833 at Quernheim by 6, Hannover
While we found something distinguished in Friedrich Meyer's part of the family tree, in Charlotte's we find the opposite. Her grandfather, Gerd Buck, was a non-inheriting son who became a soldier and spent much of his later years on parish poor relief. The end of his life was particularly distressing, as we'll see in a moment. Her father, Johann Heinrich Buck, married a woman from Eschenhausen, named Anne Kreyenhop, whose father had so indebted his small farm that he left his widow impoverished and his daughter without a dowry. In 1848 the Buck family was described as destitute, and their poverty evidently provoked the worst in them.
In 1837, Pastor Jacobi of Lemförde brought charges in civil court against Charlotte's parents, who were then caring for her grandfather Gerd:
Johann Heinrich Buck, laborer of Quernheim, and his wife Anne née Kreyenhop have, during my time here, behaved in such a truly neglectful, dishonorable, unprincipled, un-Christian, and inhumane manner toward their father, Gerd Buck -- old, upright, and genial, though often severely challenged by fortune -- that I have been compelled to speak with them in private five or six times to remind them forcefully of their responsibilities. I have not neglected to express the most emphatic remonstrances, entreaties, and exhortations. As I have become aware that they, and especially the wife, permit themselves the most vile and shocking abuse and invective against the old man, I have finally given them a warning under the official decree regarding punishment of children, which is read aloud annually in the church here. I hoped that their hard, unfeeling hearts would finally be softened and make room for virtuous sentiments toward their old father. But in this hope I have been completely mistaken. The young people on the contrary conduct themselves in such a truly unfit and callous way toward their father that I can barely avoid the thought that it is their secret desire -- partly through grief and vexation and partly through denial of required care -- to bury him as soon as possible. Although the venerable old man, now in his seventies, has been provided with much assistance, particularly clothing, and needs his daughter-in-law only to do laundry for him to keep him from slipping into destitution, his faithless children deny him even this act of kindness, and he is now in danger of descending into filth and vermin. His nightly resting place is as disgusting as anything that can be seen. He himself, now a mere shadow, is an image of the worst human misery and wretchedness. I believe that it would weigh heavily on my conscience if I did not bring this matter to the attention of government, and I request that as urgently as possible the above negligent children not only be called to account for their previous conduct toward their father but also be made to provide sufficient care so that the old man will have a better fate during his last days and hours. He himself, who can barely speak, respectfully pleads through me for government assistance, which is urgently needed, as will be affirmed by peasant judge Clausmeyer and village head Wichmann of Quernheim.
Gerd Buck died two months after this testimony.
Charlotte herself was not unaffected by her home environment. In the spring of 1848, at the time of her confirmation, Pastor Jacobi wrote about her:
During her participation in school and confirmation instruction here, Charlotte Christine Buck, a young girl of very limited natural abilities, ambition, and industry, left much to be desired -- although her attendance has improved somewhat recently. Consequently the religious knowledge that she received prior to her confirmation cannot be described as either especially deep or especially extensive, although in general she perceives the difference between right and wrong. Thus the previous behavior of Miss Buck was in no way characteristic. Typical for her was also a certain disinclination to mental effort, combined with tardiness and flightiness, but nevertheless she has been able to keep herself free from further serious misconduct; in particular I do not perceive the weakness for theft that she previously manifested. Also, nothing about any other transgressions has come to my attention -- apart from the report that, while recently working as a housemaid, she was found guilty of theft.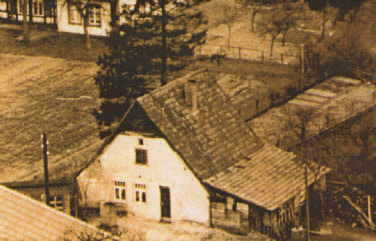 By a stroke of good luck we have a photograph of the laborer's cottage in which Charlotte was born and the above events took place, located on farm number 6 in Quernheim. The structure is no longer standing, and the aerial image evidently dates from about sixty years ago. As humble as the house appears to be, it is likely that it had actually been improved from the time of the Bucks' residence there. Originally it probably had a thatched roof and was half-timbered, and it certainly had a much larger main door, since the farm animals also lived in the house.
PHOTOGRAPH ALBUM
Family of John Meyer, 1863-1945
Family of Henry Meyer, 1859-1905
Contact the Author
This site was written and designed by Robert Jackson, great-grandson of Henry Meyer and Sophie Priesmeyer, through their daughter Tillie. You can contact him via e-mail. If you can provide additional photos, anecdotes, and documents about the Meyer clan, they would be much appreciated. In the interests of privacy, references to recent generations have not been included, but these could be added selectively as the site develops.
Please feel free to make suggestions for improving this site!